About Lesson
You will need your login info provided in the welcome email from DMR OnCloud or know your MyView username & password.
1. Launch RadioCentral, you will be prompted for your login information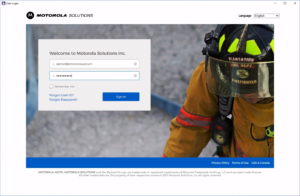 2. If you get the following error message "The user must belong to an agency. Please contact customer service." please email support@dmroncloud (if we assigned you credentials) and we will ensure you are assigned to the appropriate agency. If you obtain your RadioCentral access through another dealer, please contact them for support on this issue.


Your commercial Motorola account can be associated with your new purchase. However, this is a 3 – 5 business day process or longer in some cases. We highly recommend you utilized our DMR OnCloud express provision service to get you set up as fast as possible.
If you have your own Motorola commercial account please email support@dmroncloud.com with your MOL account number, legal company name, company address, and Motorola MyView email address. We will then send you instructions with the next steps. Keep in mind as mentioned above at a minimum, this is a 3 – 5 day process or longer in some cases. This process is not managed by us and is totally at the discretion of Motorola Solutions. We have been told that not all requests will be authorized.
Exercise Files
No Attachment Found